Boy held in London student protest 'petrol bomb' probe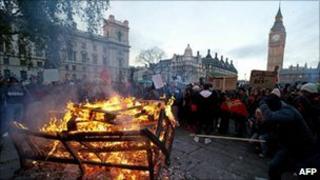 A 14-year-old boy has been arrested by police investigating the throwing of a petrol bomb at a central London protest against tuition fee increases
On Thursday police issued footage of a demonstrator carrying a flaming object in Parliament Square on 9 December.
Officers appealed for information about the person in the video, which was filmed on the same day as a mob surrounded the Prince of Wales' car.
The teenager is being questioned at a police station in south London.
The violence and damage at demonstrations over tuition fees has led to Scotland Yard creating a specialist unit for its investigations.
Nicknamed Operation Malone, it was set up to find those who committed crimes at the rallies over the past two months.
More than 200 suspects, most in their late teens and early 20s, have been arrested.
One man - Edward Woollard, 18 - has been jailed for two years and eight months after admitting violent disorder when a fire extinguisher was thrown from a roof in Westminster.