Man convicted of machete attack in Crawley fight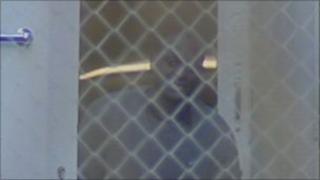 A 22-year-old man has been found guilty of attempting to murder one of three men who were injured with a machete in a brawl in West Sussex.
Police said Antonio Batsimba went from one victim to another, attacking them in the fight in Crawley in September.
The three men were badly hurt, two of them suffering serious head injuries.
Batsimba, from Dagenham, north-east London, admitted two counts of causing grievous bodily harm with intent. He will be sentenced on 17 February.
Hove Crown Court was told the fight took place in Queensway in the town centre, in an area behind Argos.
Afterwards, Sussex detectives said it appeared to have been a planned incident between people who knew each other, with a large number of people involved.
A number of weapons were found at the scene including knuckledusters, poles and the machete.
Following Thursday's verdict, Det Ch Insp Jeff Riley, of Sussex Police, said: "This was a brutal and shocking attack. The victims were very lucky that they did not lose their lives."
The jury found him not guilty on Thursday of a second charge of attempted murder and wounding with intent.
Two other men have been already been given suspended jail sentences after admitting taking part in the fight.
Omair Khan and Omar Arafat, both 20, and from Crawley, pleaded guilty to causing actual bodily harm at Crawley Magistrates' Court in November.