Surrey businesses urged to bid for Olympic contracts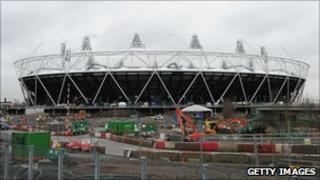 Businesses in Surrey are being urged to bid for an estimated £260m worth of contracts still up for grabs for the 2012 Olympic and Paralympic Games.
Surrey County Council (SCC) said businesses in the county had already won almost £740m of contracts linked to the London games.
But it said there was still time for more to get involved.
"We want to be sure they have the best chance of benefiting from London 2012," said Councillor Denise Saliagopoulos.
A total of 164 Surrey firms have struck deals connected with the Olympics and Paralympics - representing about 90% of all those secured across the South East
They include security and construction firms, management consultants and caterers working on projects including the Olympic Stadium and velodrome.
The council is putting on three events in March to encourage more.
Businesses will be given details of pre-games contracts still to be won, facts and figures about the events and tourism industry advice.
There will also be information about preparations for any possible disruption caused by the games.
"As well as receiving advice, people will be able to network amongst themselves to discuss how to get their slice of the millions of pounds worth of contracts on offer," said Ms Saliagopoulos.
The events are on 8 March at Sandown Racecourse in Esher, 17 March at the Holiday Inn in Woking and 22 March at Dorking Halls.