Margate memorial bench for two Peter Tobin victims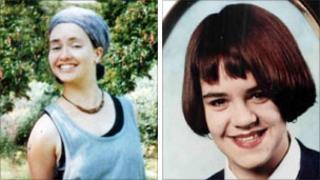 A permanent memorial is to be unveiled to two victims of serial killer Peter Tobin at a Kent church.
Thanet council will install a bench in the grounds of Holy Trinity Church, Margate, in memory of Dinah McNicol and Vicky Hamilton,
The bodies of Ms McNicol, 18, and Miss Hamilton, 15, were found in the garden of Tobin's former Margate home in 2007.
Tobin, of Johnstone, Renfrewshire, is serving life sentences for murdering the two teenagers and a Polish student.
Never be freed
Ian McNicol, Dinah's father, who lives in Essex, said: "It's going to be in a church yard and it's going to be a bench, like a semi-circular bench, with a gap in the middle.
"We're going to put a plaque up to say to the memory of Vicky Hamilton and Dinah McNicol.
"Nothing else because we don't want it vandalised."
Tobin is serving three life sentences for the murders of schoolgirl Miss Hamilton, Ms McNicol and 23-year-old Angelika Kluk.
He was told in December 2009 he would never be freed from prison when he was sentenced for strangling Ms McNicol.
Tobin was already serving life terms for the murders of Miss Hamilton, from near Redding, Falkirk, and Ms Kluk, a Polish student whom he killed in Glasgow in September 2006.