Call for decision on County Durham trains deal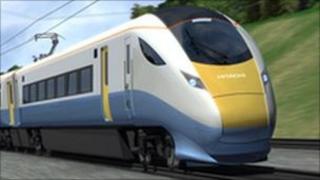 A delegation of politicians, business and union leaders from County Durham is to press the government for a decision about replacing trains.
A consortium led by Hitachi was the preferred bidder to build carriages and trains at a site at Newton Aycliffe, which it was hoped would create 800 jobs.
But there have been a series of delays in the announcement.
Delegation members will meet Transport Minister Theresa Villiers in London.
Hitachi was provisionally awarded a £7.5bn contract to build carriages, with its preferred location being Newton Aycliffe.
But the scheme is dependant on Hitachi being granted the Intercity Express Programme Contract.
The delegation is being led by Sedgefield Labour MP Phil Wilson.
He said: "There are two things we want to say to her.
"The first is when is the announcement going to be because everybody is getting a little bit frustrated now with the length of time it's taking to get an announcement.
"And secondly we want to make the economic case for why this project should go ahead in the north-east of England because it would be a massive boost for the area, especially the private sector and manufacturing jobs."