Winter cost ambulance service extra £400,000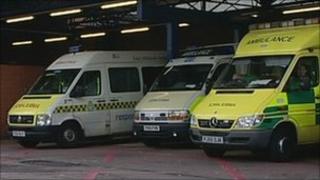 East Midlands Ambulance Service (EMAS) said it incurred about £400,000 in extra costs during the "appalling weather" in November and December.
Extra staff were drafted in to cope with an upsurge in road accidents, falls on icy surfaces, and flu-like illnesses.
Off-road vehicles also had to be hired because of the deep snow, which was worst in Lincolnshire and Derbyshire.
Crews have been praised for working under "unprecedented pressure".
A spokesperson said: "Our staff made outstanding efforts to get to patients and we have thanked and commended our teams for their efforts.
"Some slept at their stations overnight, others walked long distances through snow to get to work and to patients, whilst others worked full shifts and then returned to help rescue stranded vehicles or clear snow.
"One paramedic in Lincolnshire walked two miles through snow to deliver a baby when a mother in labour couldn't be moved out of her house."
Call rates for December 2010 were up around 40% on the previous year and although workloads are returning to normal, the number of flu-related illnesses remains high, according to the service.