Charities in England fear fuel price rises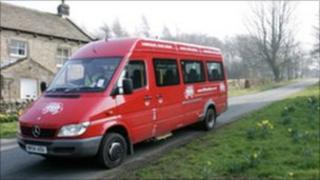 Charities and community groups are among those feeling the pinch from record petrol prices and fear fuel costs may rise further if tensions in the Middle East deepen.
For many people living in rural parts of North Yorkshire, the arrival of a "little red bus" is a welcome sight.
The fleet of 32 vehicles provide services such as day trips and Dial-a-ride, so people who find it hard to use public transport can go shopping, to health appointments and to meet friends.
But like many organisations across England, the Little Red Bus is counting the cost of recent cuts and rising fuel prices.
Lyn Costelloe, who has been chief executive of the social enterprise for 20 years, said it was experiencing its most difficult time in years.
The organisation had budgeted for diesel being at £1.20 a litre for 2010-11 but it was currently paying about £1.32.
In addition, some of its contracts were agreed three to five years in advance and did not take into account higher fuel costs.
"The price of fuel has had a significant impact on the services we provide," she said.
"We have a budget based on past fuel prices and most of our vehicles are run on diesel which has gone up considerably."
'Aim to survive'
She said although Little Red Bus, which has charitable status, does get fuel duty rebates, rising fuel costs meant it had cut back some of its services.
She said the business had already been hit by a 30% drop in its income as a result of council cuts.
Ms Costelloe said the organisation used a "scheduling tool" to plan the most cost effective routes for clients, which include North Yorkshire County Council, but this achieved greater efficiency with higher passenger numbers.
"At the moment our aim is to survive for the next year and allow people [clients] to come to terms with where they are and what they have."
Much bigger charities are also affected by rising fuel costs. Midlands Air Ambulance, which runs three helicopters, said it had seen the cost of aviation fuel rise by about 10% to 66p per litre over the past six months.
The charity, which is funded by public donations, has annual running costs of £6m.
Hanna Sebright, charity director at the service, said: "Any rise in fuel costs clearly has an impact on the charity so we will be using our 20th anniversary this year to increase our fundraising activity and help cover these increasing costs."
Elsewhere, the Community Transport Association (CTA), which represents about 1,500 UK voluntary and community transport groups, said it had become a common problem that volunteers were being put off by rising petrol and diesel costs.
Subsidies cut
Ewan Jones, the CTA's deputy chief executive, said the Approved Mileage Allowance Payment (AMAP), which is usually used to reimburse volunteer drivers for using their own cars, had been set at 40p a mile since 2002.
"Fuel prices and other car running costs have since shot up and it makes it more and more difficult to recruit and retain volunteers," he said.
Mr Jones said some subsidies, such as the Bus Services Operators grant, were also set to be reduced.
"As fuel prices go up and fuel subsidies disappear, that makes it all the more difficult for community groups," he said.
"We think with the government's stated aims of increasing volunteering, community activity and the Big Society, who don't they simply say that volunteers can be paid 5p more per mile per person?"
Lindsay Short, who runs Hinckley and Bosworth Community Transport, is among those who back calls for AMAP to rise.
She said some of the 43 volunteers involved in its Dial-a-ride-scheme had raised concerns about rising fuel costs.
Ms Short stressed the issue had not caused volunteers to leave so far, but was worried about the effect of further price rises.
"Without volunteers there is no dial-a-ride service," she said.
"With volunteering you offer to give your time but you can't afford for it to be an expense, unless of course you are absolutely loaded.
"But most of our volunteers are retired people who manage on what they've got - it's ridiculous to put them in a position where it becomes a cost."
'Tough' time
Last week, Prime Minister David Cameron pledged to look at ways of countering the effect of rising fuel costs and said he recognised motorists were facing a "tough" time.
However, HM Revenue and Customs looked unlikely to raise AMAP which it described as "generous".
A spokesman said the rate covered all the costs of running a car and were designed to encourage people to run smaller, more environmentally friendly cars.
"We are aware of the recent increases in fuel prices and keep the rates under review," he added.