Boys charged after arson attack in Cambridgeshire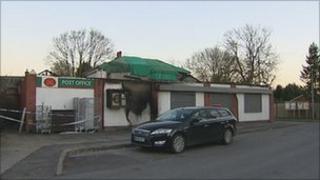 Two boys, aged 13 and 15, have been charged with arson recklessly endangering life after a fire destroyed a post office and damaged nearby homes.
Fire broke out at the post office at about 0600 GMT in Town Green Road, Orwell, Cambridgeshire, on Saturday.
An elderly man was rescued from a nearby house which caught fire and another home had to be evacuated.
The two boys, from the area around the nearby town of Royston, Hertfordshire, were arrested on Saturday.
As well as being charged with arson, the boys face two charges of criminal damage to vehicles.
The two were bailed to appear before Cambridge Youth Court on 16 March.