Saltash Card gives residents 2p a litre petrol discount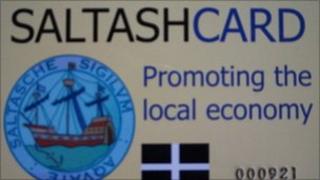 Motorists in a Cornish town are getting 2p off the price of a litre of fuel following an agreement between the local council and fuel companies.
Saltash residents who hold a Saltash Card will be entitled to the discount at the BP garage and the Texaco garage near the Carkeel roundabout on the A38.
Discount cards, which cost £2 each, were introduced to encourage people to spend money locally.
More than 1,000 people hold cards, with about 25 participating businesses.
Councillor Joe Ellison, who negotiated the deal, said: "We are delighted to be able to help local people to get a decent discount on such an essential item of day-to-day life."
The price of unleaded petrol hit a new record average of 130p a litre earlier in March, according to industry analysts Experian Catalist.
A 120,000-signature petition calling for April's planned 1p rise in fuel duty not to be imposed was handed to the government on 2 March.
The Saltash Card can be bought at the Guildhall Saltash, Saltash Library or at the Bookshelf, Fore Street, in Saltash.