Footballer Stewart Downing reveals spending habits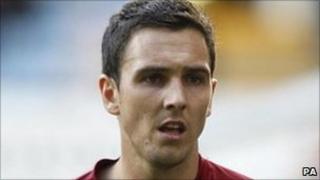 Footballer Stewart Downing spent thousands of pounds on luxury items, including £45,000 on a home cinema, a court has heard.
The former Middlesbrough player was forced to reveal his spending habits while giving evidence against his former agent Ian Elliott, of Newcastle.
Mr Elliott is accused of siphoning off hundreds of thousands of pounds from the player's account, which he denies.
Mr Downing, 26, was giving evidence at the trial at York Crown Court.
Mr Elliott denies four counts of fraud.
England player Mr Downing told the court that £136,000 had left his account to pay for a variety of items including a £6,000 walk-in wardrobe, a £30,000 home extension and a £45,000 conservatory.
He had also given family members £180,000 over a number of years, the jury was told.
The former midfielder told the jury the account should have had between £600,000 and £700,000, but contained only £11,000.
Business projects
He said: "If you look at the money that had gone out, there should have been more than £11,000."
Robin Patton, defending Mr Elliott, said: "That's if you know what you are doing with your money."
Mr Downing said he had trusted his former agent to look after his finances after he signed his first contract with Middlesbrough when he was 20.
Mr Downing, who is now with Aston Villa, said £2m had passed through the account, and he had checked the balance after his relationship with Mr Elliott soured.
Mr Elliott, 53, of Foxhills Covert, Newcastle, is accused of taking the money to prop up his failing business projects.
The trial, expected to last three weeks, continues.