Darlington Council cuts fewer jobs after budget talks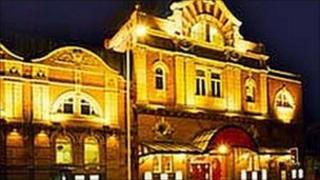 A council is cutting fewer jobs than expected after its closure-threatened arts venues were given reprieves.
More than 400 jobs were set to go at Labour-controlled Darlington Council after budget cuts were announced.
But that number has now dropped to 287 after Darlington Theatre and the arts centre were saved for another year while their futures are decided.
The council must lose 16.8%, or £11.5m, of its £107m budget over the next two years in its "toughest ever" cuts.
The council employs 2,500 staff, not including teaching staff, and losing 287 staff is 11% of its workforce.
The council is also planning to freeze council tax bills until 2012 but they will eventually increase, it warned.
'Toughest-ever'
A council spokeswoman said 75 voluntary redundancies had been confirmed and job losses were being considered "across the board" in all departments.
A council statement said: "We are continuing to reduce the need for compulsory redundancies as much as possible but due to numbers, regrettably, there will be compulsory redundancies.
"For a small number of proposals, staff consultation has been extended.
"This is the toughest-ever council grant settlement."