Patient death caused by 'unapproved' medical technique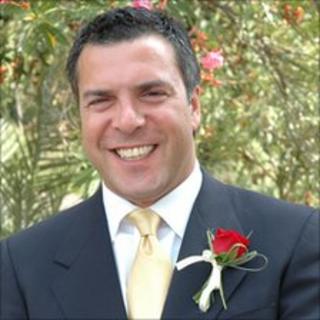 An unauthorised modification made to equipment used during keyhole knee surgery contributed to a man's death, a jury has ruled.
Father-of-three Luigi Belcuore, 43, from Warwickshire, agreed to take part in a stem-cell clinical trial.
He died in an operation in 2009 when a surgeon in Shropshire adapted a spray gun to close the wound in his knee.
The technique he used caused an air bubble to stop Mr Belcuore's heart. A narrative verdict was recorded.
'Unintended use'
Spray guns were normally used to deliver sealant to wounds, the inquest at Shrewsbury Magistrates' Court heard.
Professor James Richardson attached a needle to the spray gun and tried to inject air into the patient's knee to dry his blood.
Air got into Mr Belcuore's blood stream and stopped his heart causing him to die almost instantly during the operation at Oswestry Orthopaedic Hospital on 20 October 2009.
The jury at the inquest said: "We consider that the surgical equipment used in the procedure was modified in a significant way and that this modification was outside the intended use."
'Traumatic time'
Ethical approval had not been obtained for that use of the spray gun, they said.
"We consider that this modification contributed to the death of Mr Belcuore," he added.
Wendy Farrington-Chadd, chief executive of the Robert Jones and Agnes Hunt Orthopaedic and District Hospital NHS Trust, said the trust "deeply regretted the unexpected death".
In a statement issued on Thursday, she said: "[We] would like to express our most heartfelt and sincere sympathies to Mrs Belcuore and her family and friends, for what must have been an extremely distressing and traumatic time."
Legal action
She said patient safety was the trust's highest concern and it had co-operated fully with the coroner's investigation.
"The Trust has already taken appropriate action in response to the findings of our own internal investigation.
"We are now considering the jury's conclusions carefully and will take any further action that may be necessary, and will be liaising with the coroner as required," she added.
Mr Belcuore's family said they were considering taking civil legal action against the trust.