West Midlands firefighters help with Japan rescue effort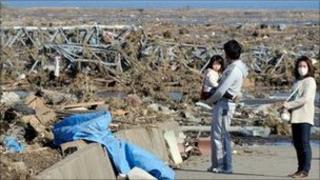 Twelve West Midlands Fire Service personnel will help with the rescue effort in Japan less than a week after returning from quake-hit New Zealand.
The men are part of a team of 63 rescue specialists due to depart from Manchester later.
It is thought at least 1,000 people died in the 8.9-magnitude quake in Japan on Friday which also triggered a tsunami across the Pacific ocean.
The team is taking two search dogs and 11 tonnes of equipment with them.
Last month, seven West Midlands firefighters travelled to Christchurch after it was hit by a 6.3 magnitude earthquake.
'Ready and prepared'
Scientists have said the earthquake in Japan is said to be 8,000 times stronger than in Christchurch.
On Saturday, Foreign Secretary William Hague said Japan had formally requested help from the UK with the aid effort.
The teams are designed to be entirely self-sufficient, with their own tents and food for up to 10 days.
Search and rescue teams from 45 countries are thought to be ready to help.
West Midlands Fire Service chief fire officer, Vij Randeniya, said: "Our International Search and Rescue team, like many from other UK Fire and Rescues, has only just returned from supporting the work in New Zealand.
"However, it is testament to their professionalism and dedication to this role that they are ready and prepared to respond to the tragic events in Japan in such a short space of time.
"Once again, the request for our support is recognition from other countries that our ISAR team is one of the best in the world."