Organisations planning to attract Olympic torch relay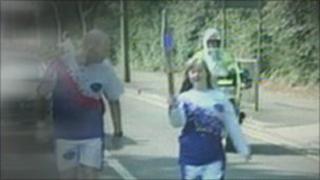 Organisations are making plans to attract the Olympic torch relay to the East in the lead up to the start of London 2012.
Cambridge wants the torch to pass through the city on a punt.
Northamptonshire wants it to highlight historical monuments and Suffolk sees it as a catalyst to boost sport.
Northamptonshire Police has put aside £250,000 for contingencies associated with the Olympics but does not "anticipate spending" all the money.
Martin Curtis, from Cambridge County Council, said: "The torch relay is an international event that gets media coverage around the world.
"Views of the city from a punt will make people come here. Also, the potential of an overnight stay means we can stage events to bring people into the city as well."
Gary Sheppard, from Northamptonshire Sport, said district, borough and county councils were working together to capitalise on the area's historical links.
They are building a campaign around tourist and sporting attractions including historic towns, monuments and sites like Althorpe where Princess Diana is buried and the Silverstone Circuit.
Main line policing
Asa Morrison at Waveney District Council has set his sights on the benefits for residents' health and sport in Lowestoft, Britain's most easterly point.
"We are keen to increase the physical activity of local residents and boost the local economy at the same time.
"When we put the super aspirational activities of the athletes before people it will inspire them too."
Martin Jelley, Northamptonshire's assistant chief constable, said funds had been set aside to police the event should it come to the region but he did not think it would all be needed.
"We've set aside £250,000 this year and in the next financial year but this is contingency.
"We don't anticipate spending much of it so that it can be put back into main line policing."
However, 2012 will be a year of "unprecedented" event commitments for the police.
"Next year will be unprecedented for Britain's police forces with the Olympics, Paralympics, Euro 2012, the Queen's Diamond Jubilee and in Northamptonshire, in addition, we have the British and Moto Grand Prix," he said.
The issues will be debated over the coming months.
Details of the torch relay route will be announced later this year but organisers say that 95% of Britons will be within an hour's journey of seeing the torch.
The issues surrounding the bid for the torch relay were discussed in the Politics Show in the East on Sunday 13 March.