Nuneaton MP Marcus Jones appeals for more council sharing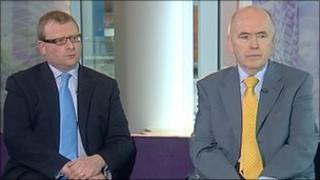 A Conservative MP and former council leader has called on authorities to share more services as they face cuts.
They must look at how to save costs "without demeaning front-line services", Nuneaton MP and ex-leader of the local council, Marcus Jones, said.
Shadow local government minister Jack Dromey told the BBC's Politics Show there was "scope for co-operation".
But he added the best estimate was that councils would save 1.8% if there was extensive sharing in local government.
Independence retained
Mr Dromey, the Labour Birmingham Erdington MP, said: "You cannot cut 28% out of the budget of local government, £212m in the next financial year in Birmingham alone, and avoid what will be catastrophic consequences for public service delivery...
"I'd ask Marcus this question, where do you get the other 26% from?"
Mr Jones, a former leader of Nuneaton and Bedworth council, told the West Midlands programme: "It's quite apparent that councils can save more than Jack's actually saying.
"There are councils across this region and across the country saving an awful lot of money by sharing."
'Far more significant'
Conservative authorities Bromsgrove and Redditch are sharing services but retaining political independence.
There will be no cuts in services in the next financial year, but between them over the next two years they need to make savings of more than 12%.
The councils have lost 25 jobs in the last two years.
Deputy chief executive of Bromsgrove and Redditch councils Sue Hanley said: "It would be wrong of me to say that there are going to be no job losses.
"But the alternative is far worse in terms of not moving towards a shared services programme and transformation. The number of job cuts and job losses would be far more significant."