'Giant lobster' caught off Sussex coast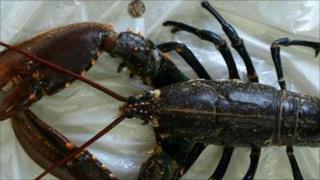 A fisherman has donated a lobster he deemed to be too special and too old to be eaten to a local aquarium.
Marcus Hyde landed the crustacean in Bracklesham Bay off West Sussex while fishing for sole.
The 3ft (1m) lobster, which weighs nearly 9lb (4kg) and is thought to be more than 50 years old, has been given to the Blue Reef Aquarium, Portsmouth.
Sealife experts at the aquarium said a fully-grown lobster would usually be half that size.
In 2009, another lobster of about the same age and weighing 8lb (3.7kg), was caught and given to an aquarium in Hastings.
The record holder is an Atlantic lobster nicknamed Mike who weighed 42lb (19kg) and was caught in 1934.