Channel Tunnel rail link fire inquest jury retires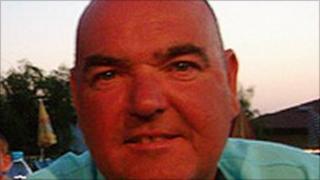 A jury at an inquest into the deaths of two men killed during the construction of the Channel Tunnel rail link has retired to consider its verdict.
Shunter Darren Brown, 40, from Manchester, died at the scene of the fire on a maintenance locomotive in Swanscombe on 16 August, 2005.
Train driver Douglas Lynch, 50, from the Folkestone area of Kent, suffered severe burns and died four days later.
An examination of the vehicle concluded there was an explosion in its gear box.
Counsel to the inquest Christopher Sutton-Mattocks previously told jurors it would be for them to consider what caused the explosion.
Severe burns
The inquest in Gravesend heard that Mr Lynch and Mr Brown were transporting a Newag locomotive carrying materials through one of two 2.5km tunnels linking Thurrock in Essex and Swanscombe in Kent.
The fire, on 16 August, followed an explosion, the force of which was so great that pieces of metal were blasted through the walls of the vehicle.
Kevin Rix and his colleague Michael Moore were the first to reach the blazing locomotive.
Mr Rix told the inquest Mr Lynch, who was a father-of-two, "looked like some plastic bags on the walkway".
He later died in hospital from severe burns.
Mr Brown's body was not found until some hours later, lying about 540 yds (500m) away from the 260ft (80m) locomotive,
A post-mortem examination on Mr Brown, also a father-of-two, found he had died of multiple injuries including flash burns and a severe head injury.
The inquest will resume on Thursday.