Colchester ex-para medal theft sentence cut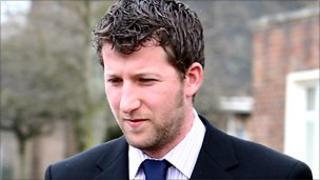 An ex-paratrooper who stole comrades' campaign medals while they served in Afghanistan has had his sentence cut to two years on appeal.
Simon Rogers, 30, of Main Street, Apethorpe, Cambridgeshire, sold four stolen medals on auction site eBay.
He was jailed for three years at Northampton Crown Court in October for after admitted six theft charges.
Court of Appeal judges agreed the sentence had not taken account of his exemplary military record.
It had also not considered his ill health and that his wife was seriously ill, said Judge Gerald Gordon, sitting with Lord Justice Gross and Mr Justice Hedle.
The former corporal had served in Afghanistan and Iraq but had been restricted to light duties due to his ill health.
'Pyrotechnics' in shed
He was left behind in the Parachute Regiment's Colchester barracks following a suspected heart attack while the rest of his unit deployed to Afghanistan, the court heard.
The thefts had a grave impact on his friends' morale since the decorations were mementoes of the soldiers' most gruelling experiences, during which close friends had died, Judge Gordon said.
"While he was prepared to sell the medals of others he did not sell his own," he added.
Rogers, formerly of Oundle, Northamptonshire, had also admitted having 40 electronic detonators, several hand-fired rockets, and other "pyrotechnics".
Judge Gordon said these were "all the elements necessary for undertaking a controlled military explosion".
The Crown accepted Rogers had no sinister motive in acquiring the military material, which was discovered in his garden shed, but there were grave concerns that it might "get into the wrong hands".