Leatherhead steam locomotive given new home at Isfield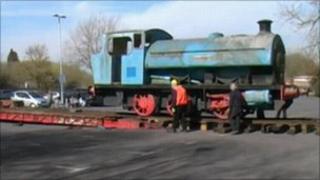 A "much-loved" steam locomotive has been moved from Surrey to its new Sussex home where it will be restored to its former working glory.
Steam enthusiasts The Hawthorne Leslie Locomotive Preservation Society bought the engine from Mole Valley District Council.
Work to move it from Leatherhead to Isfield took four months.
Volunteers helped to lay a temporary track so the engine could be moved on to a low loader.
The 35-tonne 1930s locomotive had been stationary for 25 years.
Industrial heritage
Councillor Vivienne Michael said the much-anticipated move had been a real community effort and "a very special project".
She said: "Work such as this is vital. We must continue to protect our rich industrial heritage."
Hubert Carr, acting chairman of The Hawthorn Leslie Preservation Society, said the project had brought a group of people together with a common goal.
The 77-year-old locomotive was fitted to a tractor and then pulled, using a winch, on to a temporary track, before it was moved on to a low loader and driven to the Lavender Line in the village of Isfield.
The society said working parties, helped by volunteers, had to brave the winter weather to carry out essential technical work over four months to ensure the locomotive could be moved.