Royal wedding: Loving cup unveiled by official potter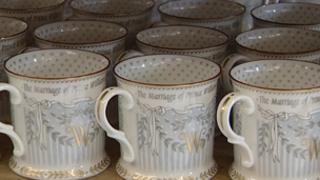 A loving cup bearing the entwined initials C and W is among the latest additions to the official range of royal wedding china.
Prince William and Kate Middleton had the final say on the design which includes doves, ribbons and hearts.
Linda Hancox, who hand-gilded the first loving cup at a pottery in Stoke-on-Trent, said her hand was shaking for the nerve-wracking task.
Demand is high for the Royal Collection range ahead of the 29 April wedding.
The factory, which has already made royal wedding tankards and pill boxes, is set to make only 1,000 loving cups for the collection.
Mrs Hancox, who has been a guilder for 26 years, said trade from the royal wedding had given a boost to Stoke and people at the factory were "on a high".
'Wonderful news'
Nuala McGourty, retail director for the Royal Collection, said the factory had nearly quadrupled its output and taken on more staff since being appointed one of the official potters for the wedding china.
She said about 70,000 pieces had been made since the china went on sale in December and the range was selling in more than 50 countries.
"We would probably have been putting through about 800 units a week before the wedding," she said.
"At the moment, the factory has probably employed about another 15 people."
Ms McGourty said the demand was "wonderful news" for Stoke, where all the china is being made.
"In the factories there's a lot of hand-made processes, a lot of skills that need to actually be preserved in this area if we're going to carry on making china in this old fashioned, traditional way."
All profits from the sale of items from the range go to the Royal Collection Trust.
The firm cannot be named due to royal protocol.