State rail takeover 'saved money'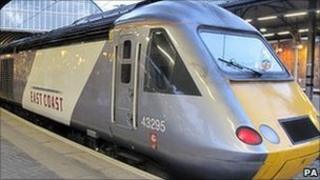 Terminating National Express's east coast franchise secured value for money and protected the taxpayer, a government watchdog has found.
The Department for Transport stepped in when the private company ran into financial problems in 2009.
A report by the National Audit Office said it was correct in taking a "tough line" and refusing to renegotiate.
Such a move could have encouraged other franchises to seek similar treatment, and cost between £200m and £400m.
At the time, five of the other 15 franchisees were seen as high risk due to falling passenger revenues.
The line is now state-run, and the aim is to return to private ownership by the end of 2012.
Setting up East Coast, and its eventual return to the private sector is expected to cost about £15m, but the final figure will not be clear until the franchise has been re-let.
The National Audit Office also found that the move helped avoid disruption to passengers.
Amyas Morse, head of the National Audit Office, said today: "In terminating the East Coast passenger rail franchise, the Department for Transport acted decisively to protect the public interest and achieved value for money by avoiding the significant risk that other holding companies would seek negotiated exits from their loss-making franchises."