Devon and Cornwall university lecturers in strike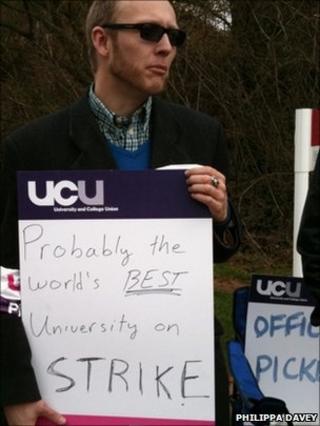 University and college lecturers have joined picket lines in Devon and Cornwall in a one-day strike over pay and changes to their pensions.
More than 100 staff from University College Falmouth (UCF), Plymouth University and Exeter University joined a UK-wide action.
Managers say they are open as normal but it has meant some disruption for students.
The Universities and Colleges Employers Association said it was disappointed.
It follows earlier pension protests by dons at older universities in England, Scotland, Wales and Northern Ireland.
John Parker-Rees, chairman of UCF's University and College Union, said: "We could be paying up to £124 a month extra for our pension and have to work to the age of 65.
"When you sign up part of the package is a fair pension. We are getting salaries lower than the private sector.
"It's an assault on pay and conditions."
The union has received the support of the National Union of Students, despite the likely disruption to their members' studies.