Police forces 'could have held severed thumb murderer'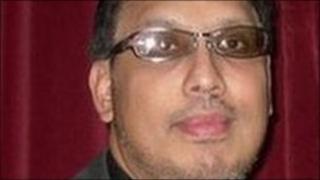 The independent police watchdog has found two forces could have arrested a man before he went on to kill his brother-in-law.
Mohammed Riaz, 33, was convicted of the murder of Mahmood Ahmad, of Watford, at St Albans Crown Court on Wednesday.
The victim's thumb was found in Ilford, Essex, in March 2010, after possibly dropping from a bird's beak.
The Independent Police Complaints Commission (IPCC) said Riaz was already subject to allegations of violence.
Police in London and Nottinghamshire had dealings with the Ahmad family over Riaz, particularly in relation to his wife and her estrangement in 2008.
Mr Ahmad's sister Nahid had left her husband Mohammed Riaz in 2008 and gone into hiding after he was violent towards her.
Threats to family
In 2006, Nahid was given a fixed penalty notice by the Metropolitan Police for withdrawing an allegation that Riaz, of no fixed address, had threatened her with a knife, the IPCC report states.
The IPCC said it was appalled the victim had been criminalised.
The Metropolitan Police was "sparse" with its work to find Riaz after an allegation that he assaulted Nahid and threatened to kill her family in 2008, the IPCC said.
It also found that Nottinghamshire Police failed to find a clear strategy when Nahid's sister was burgled and received threatening text messages in 2009.
The IPCC recommended that two Metropolitan officers and two Nottinghamshire officers should be dealt with under Unsatisfactory Performance Procedures.
Mr Ahmad, of Radlett Road, was kidnapped and taken to an east London flat where he was tortured in a bid to make him reveal his sister's whereabouts.
His severed thumb fell from the sky into an office car park in Ilford in March last year. The rest of his body has not been found.
'Sustained and frightening'
IPCC Commissioner Amerdeep Somal said: "It impossible to say what would have happened had Riaz been arrested and charged following these incidents.
"However, it is telling that within four days of Mahmood's disappearance Hertfordshire Police had traced and arrested Riaz.
"Therefore it is not unfair to suggest that had more effort been made then Riaz could have been arrested for what was clearly a sustained and frightening campaign he was waging."
Riaz and five other defendants convicted in relation to the kidnap, false imprisonment and murder are due to be sentenced on Monday.
Correction 25 March 2011. Previous versions of this story stated that both police forces had contact with Mohammed Riaz prior to Mr Ahmad's murder. This has now been amended to make it clear that the forces had contact with Mr Ahmad's family.