Derrick Bird gun rampage coroner criticises medic delay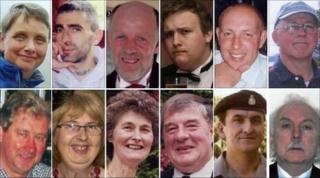 The coroner in the inquest into Derrick Bird's gun rampage in Cumbria has criticised a policy which stops ambulance crews entering a scene until it has been cleared by police.
David Roberts said he would be writing to the government to highlight the potential dangers of such delays.
A verdict of suicide was recorded for Bird - who shot himself - and unlawful killing for his 12 victims.
Bird also injured 11 people during a 45-mile rampage on 2 June last year.
While the shootings were continuing, ambulance crews and paramedics refused to attend areas until they were declared safe.
Medics were following their health and safety protocol which the police in Cumbria were unaware of and had not been consulted upon.
This resulted in some victims having to wait hours before paramedics arrived.
West Cumbria Coroner Mr Roberts said: "The fact of this case is those who died did so almost immediately and no paramedic or ambulance support was going to save their life.
"Those who were injured had injuries which were not immediately life-threatening.
"It does not take a leap of imagination to see a situation where, if this incident was replicated, it may be the ambulance service or paramedic assistance would be needed for be someone to survive who otherwise would have died."
Mr Roberts said he would write to Home Secretary Theresa May and Health Secretary Andrew Lansley about national policies which affect communication between emergency services, and about the policy of waiting for an an area to be cleared as safe.
Following the inquests, director of emergency service for North West Ambulance Service Derek Cartwright said: "It is my belief that the ambulance staff fulfilled their duties to the best of their ability.
"But we accept that, as often happens in cases such as this, there are lessons to be learned, albeit on a national level, and we need to reflect on the helpful comments made during this inquest."
The four-week hearing in Workington had heard details of the shootings and evidence about Bird's state of mind in the run-up to the day.
The deaths were examined in chronological order, with more than 70 witnesses giving evidence.
The jury of six woman and five men heard how Bird had become increasingly agitated in the days leading up to the shootings.
It emerged that he owed £60,000 back tax - relating to his years as a self-employed taxi driver - and had sought the help of his twin brother, David, and a solicitor friend.
However, he became convinced that they were "stitching him up" and he would end up in jail, the inquest was told.
He also felt that his taxi-driver colleagues were "winding him up" by playing practical jokes on him.
One of his friends told the inquest that Bird had said: "Whitehaven will be as famous as Dunblane, you'll see soon enough."
A consultant forensic clinical psychologist asked by police to work out Bird's motives, described him as "a bitter, resentful and depressed man, blaming the rest of society for his failures" and said he was suffering from a "delusional disorder".
The first victim was Bird's twin, who was shot 11 times.
He then killed 60-year-old solicitor Kevin Commons, whose help he had sought over back tax, before driving into Whitehaven.
From there he shot colleagues and strangers he passed at random, sometimes calling them over to his car before shooting them, in many cases in the face.
The other victims were: Darren Rewcastle, 43; Kenneth Fishburn, 71; Susan Hughes, 57; James and Jennifer Jackson, aged 67 and 68; Isaac Dixon, 65; Garry Purdham, 31; Michael Pike, 64; Jane Robinson, 66; Jamie Clark, 23.