RSPB leads project to regenerate Fens' wildlife habitat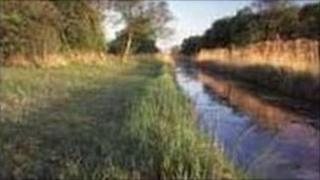 The RSPB in Eastern England has announced it is taking a lead role in a conservation project to expand wildlife habitats in the Fens.
Its Futurescape project aims to put back vital habitats lost over four centuries to drainage and farming.
The aim is to work with conservation and non-conservation organisations, landowners and farmers.
The Fens covers some 3,000 sq km (1,158 sq miles) across Cambridgeshire, Lincolnshire, Norfolk and Suffolk.
Fens drainage started in the 1600s and has caused the loss of 97% of the original wetland habitat but has created over half of the UK's Grade 1 agricultural land and supports more than 27,000 jobs.
Pockets of wildlife habitat support black-tailed godwit, one of the UK's rarest breeding birds, otters, water voles, scarce aquatic plants and insects including fen violets and broad-bodied chaser dragonflies.
Working with farmers
It can also provide essential habitats to vulnerable species of farmland bird including corn buntings, tree sparrows and yellow wagtails.
The wetlands also help protect nearly 1,000 properties and more than 29,000 hectares of farmland from flooding.
The RSPB said that without significant investment, these small pockets of land will diminish in size and quality.
The Futurescape project aims to create new and inter-connected areas of wetland and reedbed habitat while helping farmers to integrate wildlife with their business.
The RSPB will help them access financial support from government schemes to implement nature-friendly farm management.