Racing returns to Donington Park with World Superbikes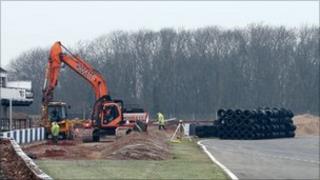 A historic East Midlands racetrack is holding world championship racing for the first time since financial problems closed the venue.
Donington Park was left unusable after the former leaseholders went into administration following a failed bid to host Formula One racing in 2009.
Owner Kevin Wheatcroft has invested millions in the track, which dates from 1931, regaining its racing licence.
This weekend it will host the Superbikes World Championship.
People using the neighbouring East Midlands Airport have been advised to allow more time for their journey.
Kevin Wheatcroft, the son of long-time owner Tom Wheatcroft who died in 2009, said: "It's been incredibly difficult to watch the dream slowly crumble. I would have loved my father to have been part of the next generation, its rebirth and for him to share in its glory.
"The hardest thing for me was standing back and watching a place I loved and a man I loved die.
"I think today he would have been secretly very proud."