Further London Midland disruption expected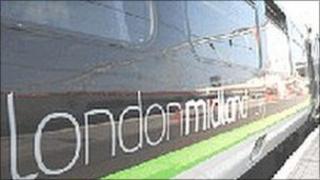 Passengers have been warned there will be a knock-on effect for London Midland services after a drivers' pay dispute affected Sunday trains.
The firm said only three routes were operating on Sunday and there would be disruption in some areas on Monday, but it did not expect that to be severe.
Employees were refusing to work overtime, which has led to a shortage of drivers.
The Birmingham-based firm apologised for any inconvenience.
Road transport
The service operates throughout the Midlands connecting to London and to the North West.
The routes in operation on Sunday were Milton Keynes to London Euston, Blake Street to Redditch (via Birmingham) and Stourbridge Town to Stourbridge Junction.
Road transport was available between Lichfield and Blake Street, Northampton and Rugby and Northampton and Milton Keynes.
A London Midland spokesperson said it was unclear exactly where there would be disruption on Monday.
She added: "Where there is disruption we'll make passengers aware as soon as we can through our website, social media and announcements at stations.
"Because there are so many trains out of action on Sunday, this creates a backlog in getting the system up and running again."
'Extremely angry'
A spokesman for train drivers' union Aslef has apologised for the disruption.
In 2009 London Midland offered drivers double time to work on Sundays but has recently dropped the rate.
Aslef has said its members were "extremely angry".
Services were disrupted by the dispute on 11 and 17 March.
The London Midland spokesperson said it hoped to resolve the situation as soon as possible and it was unclear if there would be further service disruption next weekend.