Astronaut Piers Sellers visits former Kent school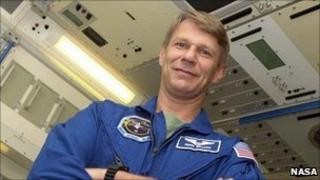 British-born astronaut Piers Sellers has visited pupils at his former school in Kent.
Dr Sellers, who was born in Crowborough, East Sussex, has flown on three space shuttle missions - most recently in May 2010.
He took part in a physics lesson during a visit to Cranbrook School.
Dr Sellers was appointed an OBE in the New Year Honours List for his services to science. He is one of only five UK-born people to have flown into orbit.
Three Nasa missions
Like other astronaut candidates born outside the US, he had to become an American citizen to be considered.
Dr Sellers joined Nasa in the 1980s and first flew into space aboard the shuttle Atlantis in 2002.
In 2006 he took part in a flight aboard Discovery that was designed to test improved safety measures following the 2003 Columbia disaster.
In May 2010 Dr Sellers boarded Atlantis for a second time to deliver a Russian-built module to the space station.
He has logged 35 days in space during the three Nasa shuttle missions.