London Midland cancels 29 trains in overtime dispute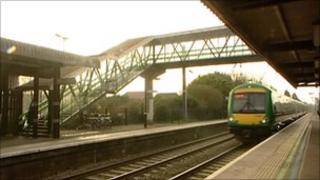 London Midland has cancelled 29 train services on Tuesday because drivers are refusing to work overtime.
The disruption is part of an ongoing workers' pay and conditions dispute and the worst affected route is from Birmingham New Street to London Euston.
Operations director Wallace Weatherill said staff training meant the firm was temporarily too dependent on overtime.
He said the company could not afford the £3m cost of giving staff equal holiday and pay.
Sunday Services have been disrupted by the dispute since 29 January and weekday services were also disrupted on 11 and 17 March.
The union Aslef is unhappy that drivers are on different terms and conditions.
London Midland was formed from Central and Silverlink in 2007 and operates services from the Midlands to London and the north west.
Employee parity
Former Silverlink workers have six days more annual leave than former Central workers but are paid up to £1,500-a-year less.
Mr Weatherill said it would cost about £3m to achieve employee parity and was not feasible in the current economic climate.
Mick Whelan, from the union Aslef, said there had been an undertaking by the company to harmonise pay and conditions by March 2009 affecting up to 1,000 issues, but two years later it was no further forward.
Both Aslef and London Midland have apologised for the disruption.
Anne Bradley, from the pressure group Passenger Focus, said: "Passengers are the customers here. They are the people that pay their fares and at the moment they are not getting the service they have paid for.
"It is absolutely crucial that Aslef and the train operator get back around the table. They need to sort this out to get the train service running as it should be."
Aslef is currently balloting its members for strike action.
London Midland operates services through London, Hertfordshire, Buckinghamshire, Bedfordshire, Northamptonshire, Warwickshire, Staffordshire, Herefordshire, Worcestershire, the West Midlands, Shropshire, Cheshire and Merseyside.