Margate service for Peter Tobin's victims called off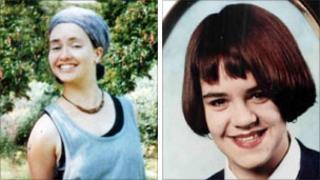 Plans for a public memorial service in Kent for two victims of serial killer Peter Tobin have been put on hold indefinitely.
The families of Dinah McNicol and Vicky Hamilton were due to take part in an event at Holy Trinity Church, Margate.
Ian McNicol, Dinah's father, said he had been "messed about" by Thanet Council and would now hold a private ceremony in the summer.
The council said it understood Mr McNicol's decision.
The bodies of schoolgirl Vicky Hamilton, 15, and Ms McNicol, 18, were found in the garden of Tobin's former Margate home in 2007.
Tobin, of Johnstone, Renfrewshire, is serving three life sentences for murdering the two teenagers and 23-year-old Polish student Angelika Kluk.
A specially commissioned bench which has been installed in the grounds of Holy Trinty Church in memory of the two teenagers was due to be officially unveiled at the service.
'No respect'
Mr McNicol, who lives in Essex, said he had lost patience with Thanet District Council over the dates of the public memorial.
He added: "I told them to shove it. They kept messing us about.
"Fair enough in December there was all the snow but then it was set to do it in March. I then rang them but I couldn't get hold of anyone.
"Then they changed it to June, which was six months away. The memorial [in the church] had already been built.
"They then changed it again to April the first, then 5 April. There's no respect for our two girls."
Mr McNicol also said he thought the service might become a bit of a "circus" because of the press interest.
Richard Samuel, chief executive of Thanet District Council, said: "Mr McNicol has made it clear to the council that he no longer wants to be involved with the plans we had been developing for a memorial service.
"The council is very saddened by this, as we had hoped that this would, in some small way, offer some form of closure for him on the terrible events that took place here.
"We fully understand and respect his decision and understand that he may be making his own plans to visit the area in the future.
"The council remains in contact with Mr. Hamilton about his plans to come down and visit the memorial."
Tobin was told in December 2009 he would never be freed from prison when he was sentenced for strangling Ms McNicol.
He was already serving life terms for the murders of Miss Hamilton, from near Redding, Falkirk, and Ms Kluk, a Polish student whom he killed in Glasgow in September 2006.