Blast death soldiers return home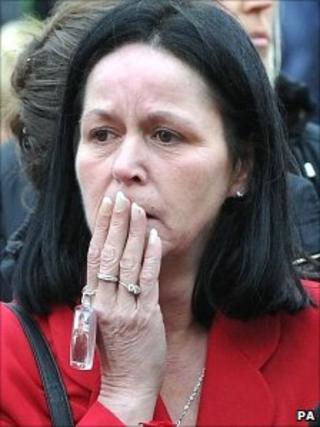 The bodies of two soldiers killed in Afghanistan, six days before they were due home, have been repatriated.
Families of Irish Guards L/Sgt Mark Burgan, 28, of Kirkby, Merseyside, and Maj Matthew Collins, 38, of North Somerset, gathered at RAF Lyneham.
They later joined hundreds of people on the High Street in Wootton Bassett, Wiltshire, paying their respects.
The men, both from 1st Battalion The Irish Guards, were killed in an explosion last week.
Friends and family of L/Sgt Burgan wore badges with the word "Burgo". His family had asked friends to wear yellow ribbons and many wore red clothing.
About 20 standard bearers lined the street as the two hearses pulled up to the war memorial in Wootton Bassett.
L/Sgt Burgan's uncle, Peter Burgan, said: "There are no words to say what kind of a guy he was. He's an absolutely wonderful guy, hence all the people here today.
"It's hard, so hard. There are so many memories."
'True Liverpudlian'
Tommy Cashen, 29, from Kirkby, described L/Sgt Burgan as "a good lad" and "a respectful person".
He added: "He was a gentleman and someone that everyone looked up to. He was a hero and a true Liverpudlian.
"He was a couple of days away from coming home, which just makes it all the worse."
Private ceremonies were held for the families after their bodies were flown into the RAF base.
Maj Collins, from Backwell, was commander of a team advising the Afghan army.
His family said he was "not only a soldier but a caring husband, devoted father to Freya and Charlie, caring son, wonderful brother and friend to many.
"We will all miss him and remember him always."