Police Federation attacks Devon and Cornwall force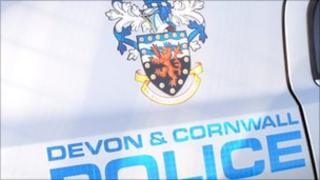 Devon and Cornwall police have been accused of "subversive management" and leaving staff "angry, confused and demoralised".
The claims come in a letter to Chief Constable Steven Otter from the Police Federation.
Its regional chairman Nigel Rabbitts condemns "dogmatic management" and "incompetency" in the wake of changes to staffing levels and working practices.
In response, deputy chief constable Shaun Sawyer said the force accepted that the scale of the changes was "challenging and always brings with it personal difficulties".
The introduction of a new duty scheme would give the public greater access to officers "at times when they need them" but he accepted "that the introduction of a scheme like this may not please all staff, however it was accepted by the Federation after a ballot".
The letter, obtained by BBC Spotlight, targets senior police managers in the context of a cut to the Devon and Cornwall Police budget of £47m over the next four years.
The disclosure of the letter's contents follows a critical report by Her Majesty's Inspectorate of Constabulary into front line policing which senior officers dismissed as flawed.
The budget cuts mean some officers in Devon and Cornwall are being moved to new locations in the region and involves the introduction of different ways of working.
But the letter says the changes have been "appallingly and unprofessionally managed".
It says economic necessity is being used to make "huge savings through redesigning the delivery of response, local policing and crime investigation".
The Federation claims it was assured that the process of notifying officers of their new positions would be sensitive to the individual needs of each officer.
But it claims some staff have found themselves omitted from information about postings while others had been informed "on social network sites rather than from line managers".
The financial strains on individuals and a lack of understanding by the force had left staff feeling "angry, let down, confused, undervalued and demoralised", it claims.
The Federation also believes the force has become "a laughing stock" over such issues as the handling of inquiry office closures and changes in front line policing of roads.
"Public confidence which officers have worked so hard to build is being eroded together with confidence of the workforce in their employer," it adds.
Mr Sawyer said that although the force was changing the way it responded to incidents "we will still continue to maintain neighbourhood policing teams and communities will continue to have dedicated beat managers and PCSOs".
Of the 1,500 patrol officers, only 5% will be working in a different location and a different area of policing by 20 May, he said.
Mr Sawyer added that this was "not to underestimate the disruption that this type of change can have on individuals and their families".