Sussex and Warwickshire police hunt twin sex offenders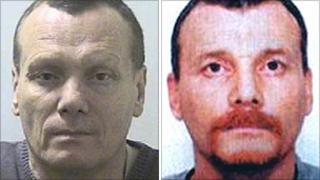 Two dangerous child sex offenders have become the first twins to be put on a "most wanted" police website.
Kenneth and Thomas Parker, 56, have both breached requirements of the sex offenders' register, after being convicted of offences against children.
The pair, who have links to Sussex and Warwickshire, are thought to have been in mainland Europe.
The Child Exploitation and Online Protection Centre (CEOP) has put the pair on its most wanted list.
Sussex Police said it was the first time the force had used the CEOP website.
Det Ch Insp Nigel Jones, from Warwickshire Police, said: "We have done everything we can to locate Thomas Anthony Parker, a convicted high-risk child sex offender."
Thomas Parker is wanted for recall to prison but both men could both be jailed for breaching notification requirements. The offence carries up to five years in prison.
Violent tendencies
CEOP chief executive Peter Davies said the twins were the second and third offenders to have been posted on the website this month, and the 23rd and 24th in total.
He urged people to help police find the men who were "two dangerous individuals", classed as particularly high-risk, and had shown violent tendencies in the past.
The brothers have connections to France, Holland and Portugal and are believed to be together, although is not confirmed, police have said.
Kenneth Parker, who is about 5ft 8ins (1.7m) with medium build and short brown hair, has tattoos of a fish and wings on his left warm and a dragon and a panther on his right. His last known address was in Sussex.
His brother, who is about 6ft (1.8m) with a slim build and cropped brown hair, has tattoos on his arm of a Chinese carp, a naked woman, a swallow, a stallion's head and a wizard.
Thomas Parker, whose last known address was in Liverpool, previously had facial hair and has a scar by his left eye.