Birmingham Mint leaves base for Kidderminster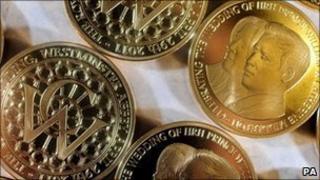 The Birmingham Mint, dating back more than two centuries, has moved to Worcestershire.
The Mint, which has produced a coin to commemorate the royal wedding, has moved to Kidderminster, where it already had a presence.
The name would not be changed following the move, a spokesperson said.
About 50,000 coins are being produced at the Mint in honour of the marriage of Prince William and Kate Middleton on 29 April.
The Mint, which was established in 1794 in the Jewellery Quarter, was put into administration and ceased trading in 2003.
Birmingham City Council entered into a deal with two companies to keep part of the operation going.
'Quite stupid'
Managing director Angus Law described the relocation from Tyburn Road, Birmingham, to Worcestershire as a "sensible move".
He said: "We had another one of our offices based down in Kidderminster, the main office, or my father's business.
"So we decided to join them all up and move down there.
"The Birmingham Mint is known throughout the world and to change the name, it would be quite stupid for us."
Mr Law said the new build in Kidderminster suited it "down to the ground".
He added: "You need a very clean environment for minting, obviously dust free."