Londoners rent out 'royal wedding' rooms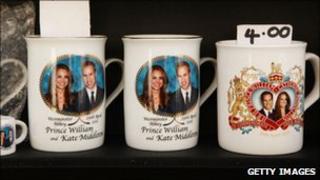 Ashley Slade is "watching the buzz" for the royal wedding in the American media as the big day draws closer.
Mr Slade is hoping to attract an American family to stay in his motor home or RV [recreational vehicle] for the week that Prince William weds Kate Middleton.
Like many Londoners, Mr Slade has seen the business opportunity of turning available accommodation into hard cash.
For £1,200, he has created the "perfect seven-night package", which includes airport transfers to the motor home at a campsite in Edmonton, north London.
"The Americans love their RVs and rather than staying in a hotel, someone might want a home from home in England," he said.
"People know what they are coming to with an RV and they can plug in their appliances as they have American sockets."
Internet boom
He said he was surprised the accommodation, which has been advertised for three months, had not yet been let.
The internet is helping to fuel a royal wedding boom for private accommodation by readily connecting London homeowners with would-be visitors.
A recent survey by FindaProperty.com found that one in four Londoners were looking to rent out part or all their home for the 29 April wedding.
A total of 1,200 visitors to the site were questioned for the survey, with 57% planning to let out just their spare room for an average of £38 a night.
Site spokesman Peter Marcus said: "Something on a smaller scale happens every year at Wimbledon, with people living near the tennis grounds renting out their homes. And we are seeing the same thing for the Olympics next summer," he said.
"Dozens of properties near Greenwich are appearing on our site, with some people renting out their homes for the entire month of August and charging as much as four or five times the normal rate."
Other property websites have reported similar spikes in interest.
Italian Rosa Acunto rents out several rooms at her home in Leyton, east London. She said students from all over the world paid £15 a night for shared accommodation, and her price would remain the same for the wedding weekend.
"So far there are three French boys who are coming for the weekend - for the four days to see the wedding. It's an exciting time, there will be big celebrations," she said.
Hotel accommodation is expected to be limited with prices more expensive than usual because of higher demand, the website Hotels.com has predicted. However, a spokeswoman added there were still deals available.
In addition, many Londoners appear to be taking advantage of the extra bank holiday to go overseas, with Hotels.com reporting that searches from people seeking to be abroad on 29 April had more than tripled from last year.
Sam Taylor, of online classified website Gumtree, said: "Despite the building excitement about the royal wedding, Londoners have begun to realise that if they rent out their property over the wedding weekend, it can fund a holiday to more exotic climates."
He said Gumtree had seen an influx of ads from people renting out London rooms or homes for the wedding, with many charging £2,000 for the week.
'Late decisions'
Mr Taylor, head of brand and marketing communications, said: "Gumtree often sees phenomenon like this. People who use the site are inventive and entrepreneurial and we see this on a lot of occasions, with the royal wedding just being the latest."
He said when flights were disrupted by the volcanic eruptions in Iceland last year, there was an "influx" of ads offering car sharing, while Valentine's Day often led to ads for unwanted gifts.
Mr Taylor said the internet had provided a key tool allowing people to quickly let their property on a short-term basis.
"It gets the property out there and having 'royal wedding' in the title means the ads come up in searches," he said.
Despite the large amount of property still available less than four weeks before the wedding, Mr Taylor was certain demand would exceed supply and that accommodation would be filled.
"People will probably make decisions quite late," he said.
Mr Taylor believes people trying to book late into central London hotels may be shocked at the price and look for an alternative.