Southern Water plugs 22,000 water leaks in a year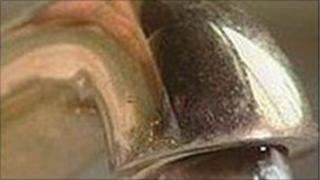 More than 22,000 water leaks were repaired across south-east England by Southern Water in the past year.
The company, which supplies water across Kent, Sussex, Hampshire and the Isle of Wight, said it was a record number. In 2009-10 it fixed 17,200.
It credited a £20m leak reduction programme launched last April and said it would be investing a further £20m.
It has been fitting meters with leak alarms to properties, which activate when water runs through the meter.
'Harsh winter'
Over the next financial year, Southern Water said it planned to fit more than 100,000 meters, and replace 100km of water mains across the region, following the replacement of 52km last year.
Dave Williams, leakage manager, said: "Last year we repaired a record number of leaks, despite the harshest winter since records began which caused an exceptional number of pipes to burst.
"This was our third successive harsh winter which could be the sign of things to come in future years."
He said the focus remained on finding leaks before they became visible to customers.
Mr Williams urged residents to call Southern Water's freephone leakline when they spotted a leak. He said 23,549 people called it last year.