Baby son at Afghanistan soldier's funeral in Eastbourne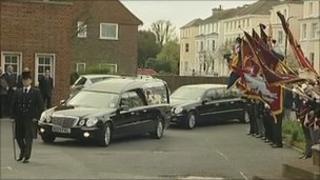 The baby son of a soldier who died after an explosion in Afghanistan was among friends and family who gathered for his funeral in East Sussex.
Pte Daniel Prior, 27, flew home for the birth of his son, Logan, only weeks before he was injured in a bomb blast in Helmand province.
Pte Prior, who was based in Colchester, Essex died from his injuries in hospital in Birmingham last month.
Logan was carried into St Saviour's Church, Eastbourne by his mother Emily.
She was supported by Pte Prior's parents, Ian and Gillian, who live in Eastbourne.
Pte Prior, of 2nd Battalion the Parachute Regiment, was born in Brighton and lived in Peacehaven before moving to Colchester with his wife.
He was providing fire support for fellow paratroopers and the Afghan National Army during a patrol in a small village when he was hit by an improvised explosive device (IED) on 17 March.
He was flown back to the UK and Logan was laid in his arms as he died with his family at his bedside.
Platoon Commander Jonny Mortimer Hendry said Pte Prior was very professional and an outstanding soldier.
"He encapsulated the character of a paratrooper, but he was also a family man," he said.
"He had tight bonds with his family and was a very caring and loving man who will be sorely missed by us all."