Stowe School porter's 'shock' at pupil poison claim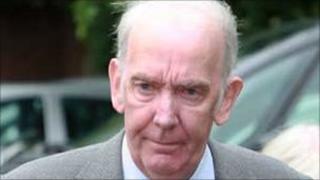 A kitchen porter at a top public school has told a court he was stunned to hear accusations that he poured drain unblocker into the pupils' carrot soup.
The trial of Maxwell Cook, 58, of Northamptonshire, has heard he was seen putting the substance into the soup at Stowe School in Buckinghamshire.
He told Aylesbury Crown Court when he heard the allegation: "I was in so much of a shock I went and sat in my car."
Mr Cook denies trying to administer poison with intent to injure or annoy.
He had been drinking when police arrived at his home on 12 March last year, the day after the alleged poisoning bid, the court heard.
Mr Cook, who is from Syresham, admitted he had walked past the soup with a container of sanitising destainer in his hand but had merely looked at the food "to take an interest".
In his police interview, read out on the second day of his trial, Mr Cook said: "I walked past the stoves where there were two pots, with a container of bleach in my hand, and glanced down to see what was on the menu that night."
'Nice school'
He said there was "no way" his hand could have been raised above the pot and "no way" he could have tipped in the cleaning product by mistake.
Mr Cook denied pouring the toxic liquid into the carrot and coriander soup and insisted he had nothing against the school where pupil fees are £27,000 a year.
He told police: "It's a nice school, I enjoyed working there."
About 100 pupils and staff could have eaten the soup if it had been served, the court has been told.
But the presence of the noxious substance was detected during a routine tasting.
The cleaning agent is usually used to unblock drains and if ingested can cause irritation, vomiting and swelling of the throat.
Mr Cook was suspended in the wake of the allegations.
Past pupils at Stowe include business tycoon Sir Richard Branson and jazz great George Melly.
The trial continues.