Hertfordshire Police names new chief constable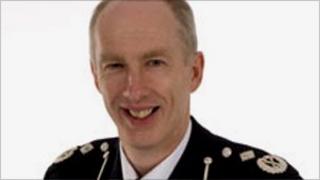 An officer from Essex is to be the new chief constable in Hertfordshire.
Essex deputy chief constable Andy Bliss, who was given the Queen's Police Medal in 2010, is due to take on the new post in the next few months.
He joined Essex Police in 2004 as assistant chief constable looking after training and neighbourhood policing.
He became deputy chief constable taking in 2006 taking on responsibility for corporate development, legal services, media and professional standards.
Mr Bliss was also involved in collaborations with other police forces including Hertfordshire.
Real privilege
"I am really delighted to be joining Hertfordshire Constabulary," he said.
"It is an excellent force with a national reputation for good performance and innovation.
"My aim is to keep it that way despite the financial challenges that all forces presently face.
"It has been a real privilege to have served with Essex Police.
"I am very proud to have served with such a great team of people who are so committed and often courageous as they tackle crime and work hard to keep people safe."