Berkshire dominatrix sex botox doctor suspended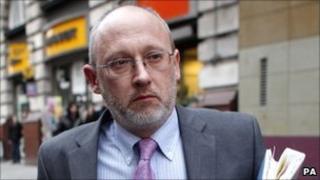 A botox doctor who engaged in sexual activity with a dominatrix at his Berkshire clinic has been suspended for 12 months.
Dr Tony Walker, 53, escaped being struck off as a disciplinary panel ruled he "did not pose a significant risk of repeating the behaviour".
Patient Marion Burton said Dr Walker performed a sexual act as she lay on the treatment table in 2008.
The doctor, from Kings Norton, Birmingham, had denied the claim.
The General Medical Council panel said it was not in the public interest to permanently deprive patients of the "valuable" services of an "otherwise competent doctor".
Dr Walker said it was Mrs Burton who performed the act on him and encouraged him to perform a sex act on her.
He denied sexual activity took place at the clinic in Maidenhead in June 2008, but accepts it did in two later consultations.
'Crossed boundary'
Dr Walker told the General Medical Council panel, sitting in Manchester, that it was Mrs Burton who had seduced him while she was "dressed like a prostitute".
Mrs Burton, 51, known as Mistress J in her former occupation, secretly recorded him on their last consultation at the surgery because she said she wanted to expose him to the authorities.
In September 2009 she was cleared by a jury of blackmailing the private cosmetic surgeon by allegedly demanding £20,000 after obtaining the covert footage.
Her husband Terry Burton pleaded guilty to blackmailing Dr Walker and was jailed for three-and-a-half years in 2009.
The panel was also told Dr Walker had a conviction in 2008 for assaulting his wife Yvonne in a row about their Great Dane dog.
His fitness to practise was impaired because of his misconduct with Mrs Burton and his assault conviction, the panel found.
In its findings, the fitness to practise panel said: "You were willing to be over-familiar with Patient MB (Mrs Burton), you proactively crossed the boundary of the doctor/patient relationship and engaged in sexual activities."
But it praised him for attending a domestic abuse help programme where he had received "positive reports".
Mrs Burton told the panel that Dr Walker never knew about her job as a dominatrix in which she earned up to £5,000 a month, with local politicians, bankers, rugby players and bricklayers said to be among her clients.