Views sought on Auckland Castle's future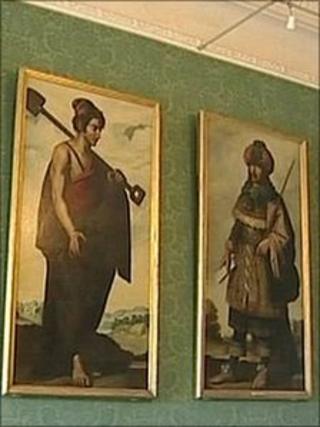 People attending a County Durham food festival have been invited to suggest ways Auckland Castle could provide a boost to the local economy.
Durham County Council and the Church Commissioners want the castle, and its Zurbaran paintings, to become a major tourist attraction.
The aim is to put it at the forefront of the region's cultural heritage.
On Saturday visitors to the Bishop Auckland Food Festival on the site will have the chance to give their views.
Councillor Neil Foster, cabinet member for regeneration and economic development, said: "Who better to help inform decisions than the very people we hope will benefit from improved and enhanced access to these two vital pieces of our heritage and culture.
"There will be many thousands of people coming to this weekend's festival and we are sure there will be lots of exciting suggestions offering us much food for thought."
There had been plans to sell off the historic collection of pairings by Spanish Baroque artist Francisco Zurbaran, and use the money to fund Church efforts in poorer areas.
However, following a £15m donation by investment manager Jonathan Ruffer, they will now remain at Auckland Castle.