Work starts on installation of airport wind turbines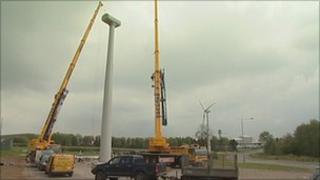 Work has started on the installation of two 45m (148ft) wind turbines at East Midlands Airport.
The wind turbines, which are the first at an airport in the UK, are being lifted into place next to the airport's headquarters.
The turbines will generate 5% of the site's electricity when they are completed.
The Castle Donington airport is building the turbines in a bid to make its operations carbon neutral by 2012.
Planning consent for the turbines, which will save approximately 300 tonnes of carbon emissions each year, was granted in 2008.
Neil Robinson of East Midlands Airport said: "The turbines will be installed for 20 years and we see it as a significant investment for the airport and the environment.
"Throughout the process, we have been careful to ensure that they will have no effect on our operations or be obtrusive for neighbours."