Bolton Wanderers and Stoke City fans travel to Wembley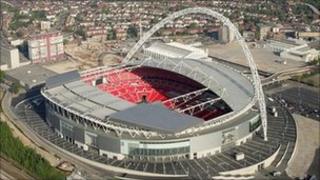 Tens of thousands of Bolton Wanderers and Stoke City fans have travelled to Wembley for the weekend's second FA Cup semi-final.
The winning team will play Manchester City in the final, who beat Manchester United 1-0 on Saturday.
Stoke has never reached an FA Cup final, and Bolton has not since 1958.
Motorists faced delays as the southbound carriageway of the M1 remained closed between junctions one and four after a fire.
Two lanes of the northbound carriageway have reopened, for the return journey. However, drivers have been advised to avoid the motorway and use the M42 and M40 instead.
The Highways Agency spokesman said urgent repairs were needed before the motorway could be fully reopened.
He said officials hoped to have at least one lane open early on Monday.
For those travelling by train, British Transport Police have banned alcohol on trains before and after the game.