Northampton to London train death woman inquest opens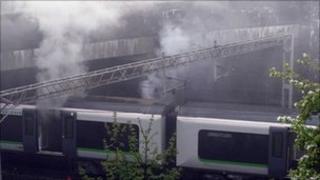 The inquest has opened into the death of a London woman who is believed to have killed herself after starting a fire while inside a train toilet.
Rachel James, 43, of Whitehall Road, Uxbridge, died in the fire on the train travelling from Northampton to London on 11 April.
The train was stopped north of Leighton Buzzard in Bedfordshire and the 40 passengers escaped over the tracks.
The inquest in Bedford heard the cause of death was "incineration".
Bedfordshire Coroner David Morris adjourned the inquest to a later date.