Rio Ferdinand stalker guilty of harassment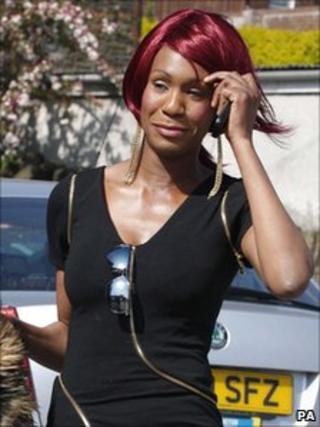 A woman who made nighttime visits to footballer Rio Ferdinand's Cheshire home has been convicted of harassment.
Susanne Ibru, of Peckham, south London, twice disturbed the Manchester United player and his wife at night, claiming she needed to speak to him.
Ibru, who conducted her own defence, left court after being told she could not question Mr Ferdinand's wife, Rebecca, who had just given birth.
She was convicted in her absence by Macclesfield magistrates on Monday.
Earlier, Mr Ferdinand, 32, told the court he was left "angry and upset" when Ibru repeatedly turned up at his home.
Ibru, 38, had denied harassing the ex-England captain and his family.
The court heard she turned up at his home in Alderley Edge three times between February and June last year.
Ibru made the 400-mile round trip from her home in south London on 21 February, then again on 16 and 18 June.
Mr Ferdinand told the court he was upset by the visits from the woman, whom he had never met.
During her cross-examination of the footballer, Ms Ibru said she had been to Mr Ferdinand's home about four or five times over the past four years.
She asked him: "Do you think that amounts to harassment?"
The footballer replied: "Yes."
Mr Ferdinand then said: "I called the police because I didn't want you at my house."
She claimed they had first met at the home of one of his relatives in 1998, an occasion he said he did not recall.
'See you soon'
She replied: "I remember that very well - the first time setting my eyes on you, not just in a newspaper."
As Mr Ferdinand left the court after giving his evidence, Ibru said: "I'll see you soon, bye."
Mrs Ferdinand was excused from giving evidence following the birth of their third child, a daughter.
When the judge told Ibru this meant she could not cross-examine her, she walked out of court and failed to return. The case continued in her absence.
Earlier, Ian Davies, for the prosecution, said Mr and Mrs Ferdinand were asleep in bed when the first incident happened in the early hours of 21 February.
He said Mrs Ferdinand woke her husband after hearing the buzzer of the intercom at the entrance gate to their home.
The footballer said he went to the bathroom window to see who was at the gates and saw a figure wearing a hooded top in the darkness.
'Angry and disturbed'
He said he shouted down to see who it was and the figure looked up and he was able to see it was Ibru.
He said: "At first I was angry and upset but then disturbed, really, because I have got a young family and this was not the time or the place to be coming to speak to me."
He added: "The safety of my family is as huge to me as it is to anyone."
The prosecution said they were unknown to each other, although Mr Ferdinand's mother Janice was briefly introduced to Ibru after a church function in 2003.
Ibru got hold of Mrs Ferdinand's phone number and would phone her, eventually asking after her son.
District Judge Nicholas Sanders issued a warrant for Ibru, asking for her to be brought back before him for sentencing.
He said: "Mr Ferdinand is a high-profile footballer and whilst there will always be occasions where he is exposed to public and press scrutiny, the fact is that when he is in the privacy of his own home with his family he has a right to expect to be left alone.
Judge Sanders added: "It is without question that it did amount to harassment of Mr and Mrs Ferdinand."