Sarasota mayor's shock at tourists' Florida deaths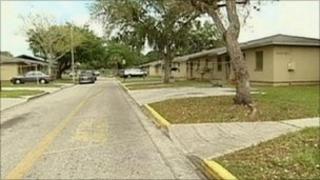 The Mayor of Sarasota has spoken about the shock and disbelief within the local community over the deaths of two British tourists on holiday in Florida.
James Kouzaris, 24, from Northampton, and James Cooper, 25, of Warwick, were found shot dead 50ft from each other in a street in the Newtown area of Sarasota.
Prosecutors say they intend to charge a 16-year-old boy, Shawn Tyson, with two counts of murder after the friends from university were found on Saturday.
Speaking about how local people had responded to the news, Mayor Kelly Kirschner said: "I think it's fair to say a good bit of shock and disbelief and waiting obviously to learn more about the details of the night."
'Tale of two cities'
Mayor Kirschner described the area where the bodies were found as one of the poorest parts of south-west Florida.
"We do have this tale of two cities," he said.
"We have, I think, one of the greatest cities in the state of Florida in terms of our dedication to culture and arts, and beautiful beaches and everything else.
"Then the flip side is you have this historic black community that is the complete opposite of that situation.
"And it is troubling again as a native of Sarasota that we haven't been able to harness the power and energy of such wealth."
However, the mayor said he was reluctant to be drawn on what might have happened.
"It would just be speculation and not really productive for me to get in to," he said.
"We were seeing these sensational stories coming out of some of the British tabloids that this is a gangland type of thing and rampant violence.
"You do read these other things online - that they're [the British tourists] in the wrong place at the wrong time - and that's unacceptable to me."