Rio Ferdinand stalker Susanne Ibru arrested by police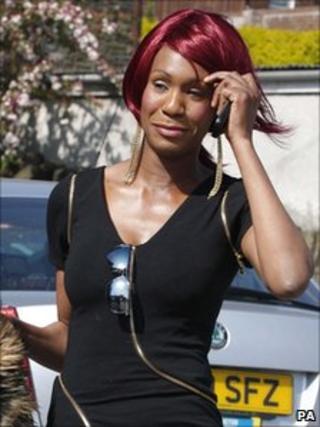 A woman who stalked Manchester United footballer Rio Ferdinand has been arrested after she fled court.
Susanne Ibru, 38, of Peckham, was convicted in her absence of harassing the England star and his family.
She left Macclesfield Magistrates' Court on Monday after being told she could not cross-examine the defender's wife, Rebecca.
Ibru was arrested in Warrington and charged with a further offence of assaulting a police officer.
District Judge Nicholas Sanders had issued a warrant so Ibru could be brought back before him and sentenced.
She appeared at South Cheshire Magistrates' Court on Tuesday, where she also pleaded guilty to breaching her bail conditions by arriving 90 minutes late for Monday's trial.
Simon Leech, defending, said it was a genuine error as she went to the wrong court building.
He said she was arrested moments after she had called a taxi to take her to the police station where she intended on handing herself in.
Judge Sanders said she would be sentenced for the harassment and bail matters at a later date, but said he might consider a community punishment.
Ibru was remanded and is due to appear before Warrington magistrates on 9 May over the alleged assault of a police officer, which is being dealt with separately.
'See you soon'
She will appear before Judge Sanders again on Wednesday, when he will consider a bail application.
She was remanded to allow police to establish where she lives, as she has been linked with addresses in Queens Road, Newcastle upon Tyne; Shaws Road, Southport; and York Terrace, Liverpool.
Judge Sanders described it as a "mystery".
On Monday, the court heard how she turned up at Mr Ferdinand's home in Alderley Edge three times in the space of four months in 2010.
Ibru had denied harassing the ex-England captain and his family.
Conducting her own defence, she told the court during her cross-examination of the footballer that she had been to Mr Ferdinand's house "about four or five times".
She asked him: "Do you think that amounts to harassment?"
He replied: "Yes."
As Mr Ferdinand left the court after giving his evidence, Ibru said: "I'll see you soon, bye."
Rebecca Ferdinand was excused from giving evidence following the birth of the couple's daughter.
Ibru told the judge she wanted to question Mrs Ferdinand and, when she was told she could not, she walked out of court and failed to return.
Giving his verdict, Judge Sanders said: "It is without question that it did amount to harassment of Mr and Mrs Ferdinand.
"Miss Ibru, I suspect, will say she didn't know but she certainly should have done."