Tour of Britain returns to Norfolk and Suffolk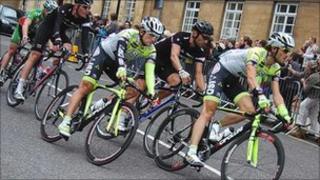 Norfolk and Suffolk are set for a financial boost after the route of The Tour of Britain 2011 confirmed its return to the region on 17 September.
The longest leg of the tour will run from Bury St Edmunds in Suffolk before finishing 200km (124 miles) later in Sandringham, west Norfolk.
It is estimated the race brought £7.5m to the local economy as a result of the competition in 2010.
The Tour of Britain is the UK's biggest professional cycle race.
With television coverage in more than 100 countries around the globe, both counties are preparing for the opportunity to showcase locations along the route to huge audiences.
Derrick Murphy, leader of Norfolk County Council, said: "The benefits of hosting a stage of the Tour of Britain are huge, with our tourism industry and those in related trades particularly set to gain enormously from the regional, national and international attention that the tour brings.
"I am also delighted that we have managed to secure the race on a Saturday as many who wanted to see the race last year may have struggled to do so due to work commitments," he added.
In 2010 Norfolk hosted an individual stage while Suffolk hosted a joint stage with Essex watched by an estimated 250,000 spectators.
Jane Storey, Suffolk County Council's deputy leader, said: "We're thrilled to be bringing the Tour of Britain back to Suffolk.
"Last year, the tour added to Suffolk's already thriving £1.75bn tourism industry by bringing in millions of pounds of extra trade. We plan to build on that this year," she added.
Speaking on behalf of the tour organisers, Hugh Roberts said: "In 2010 we saw massive crowds lining the route, so I hope this September to see more of the same, as there is clearly a fantastic appetite for cycling in the region."