Aston Villa boss Gerard Houllier to leave hospital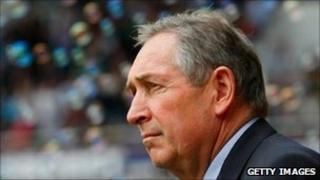 Aston Villa manager Gerard Houllier is expected to be discharged from hospital in Birmingham within the next 24 hours.
Caretaker boss Gary McAllister said the 63-year-old Frenchman had undergone a scan which was "favourable".
He said Houllier's condition was much better than had been expected when he was taken ill last week.
Houllier was admitted to the Queen Elizabeth Hospital on 20 April with chest pains.
Recuperation and rest
McAllister said Houllier had just come through a successful scan and the doctors were pleased.
"He is going to be discharged in the next 24 hours, " he said.
McAllister added the good news from the scan had convinced doctors he was fit enough to go home.
Houllier's future will be decided with the help of specialists and doctors, he said.
"But, knowing Gerard and his love of the game, he will want to come back," he said.
McAllister said Houllier still needed a period of recuperation and had to undertake a lot of rest.
In a statement, Houllier said he was touched by all the messages he had received and praised the care he had received at the hospital.
Consulted surgeon
Dr Mark Waller, the club doctor, said the manager's chest pain had been caused by a dissection of the descending aorta.
McAllister is expected to run the club's first team until the end of the Premier League season.
Houllier previously had major surgery after suffering heart-related problems in 2001 when he was manager of Liverpool.
When he arrived at Villa Park in September to succeed Martin O'Neill he revealed he had consulted his heart surgeon before accepting the job and was given a clean bill of health.
The club said Houllier had their "total support".