North East and Cumbria celebrate royal wedding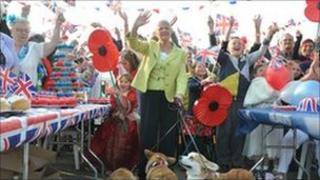 Communities across the north-east of England and Cumbria have celebrated the royal wedding.
Many of the street parties and other events started following the marriage service of Prince William and Kate Middleton at 1100 BST.
Residents of the Golden Sands Holiday Park, Cresswell, Northumberland, began with a champagne breakfast at 0600 BST.
Hundreds of people watched the service on big screens including in Carlisle, Middlesbrough and South Shields.
Revellers enjoyed the sunshine for some of the events but at others rain failed to dampen the celebratory mood.
'Proud moment'
Miss Middleton's second cousin once removed and chip shop owner, Peter Beedle, watched the service while he was frying up.
The 47-year-old was serving up royal wedding-themed food at Beedle's Chippy, in Bishop Auckland, County Durham, including Middleton's mushy peas, Kate's cod and Buck House burgers.
Mr Beedle shares great-grandparents Thomas Temple and Elizabeth Myers with the new Duchess of Cambridge.
He said: "I had the telly on as I was frying up and I think Kate looked absolutely lovely.
"It's a proud moment for our family, for Bishop Auckland and the North East to have that royal connection."
He said media from around the world had wanted to speak to him.
He said: "I get a bit of banter, the kids ask me for autographs and a few of the lads in the pub take the mick a bit, but it's all in good fun."
Sleeping bags
Joining the celebrations in Cresswell were six corgi dogs, to add a regal element to the party.
Golden Sands owner Nigel Thompson said: "We love the chance to party as today shows.
"Everyone young and old alike gets involved. It's been a memorable start to what really is a day in a lifetime."
Some revellers from the region headed down to join the crowds in London.
Among them were Sue Heppell, 59, Susie Record, 67, and Ann Burch, 65, who travelled from Newcastle on Thursday to find a good spot outside Clarence House.
Mrs Record said she met Prince William when he went on an impromptu walkabout on Thursday night and he seemed very relaxed.
She said "He asked us whether we were sleeping out. He didn't seem surprised."
They spent the night in sleeping bags on camping chairs.
But for those left behind there was plenty on offer with dozens of street parties in towns and cities around the region.
In Carlisle city centre, celebrations at the royal garden party, which started at 1000 BST, included a large screen showing the service and street entertainment.
Organisers said thousands of people watched the service on the screen in Carlisle.
The Carlisle celebration will continue on Saturday.
Hundreds of people watched the service on a big screen at South Marine Park, in South Shields.
Among the other areas where communities came together to celebrate the day were Newcastle, Sunderland, Blyth, Stainton and Holker Hall, both in Cumbria.
At St Nicholas Church, in Durham, the bells were pealed for the first time in more than 80 years.
The bells have been refurbished recently and have been rung since but not pealed, which involves the six bells being rung in sequence 5,000 times. It lasted for two hours and 50 minutes.